A Holiday Home – Mr. Nirmal – Brigade Orchards – Part 2
This master bedroom is a clear definition of minimalism with pop of color. It has a beautiful set of windows that ensure there is no dearth of natural light.
The cushioned headboard with a dark wooden frame is neutral and has straight lines giving it a clean look.
The satin cushions, bedspread and carpet add vibrancy to space and make this bedroom stand out by all means.
The crisp and clean use of monochrome shades in this room gives it a bold, dramatic yet elegant ambiance. The nearly perfect color blend is the wow factor of this space.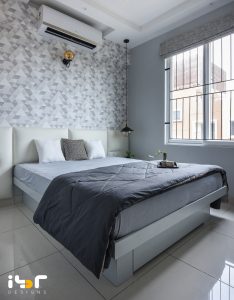 The vintage wall lamp and hanging light along with the black window railing complement the other colors and add character to the room.
The corner window, the minimalist design and the interesting color blend are the key specialties of this bedroom. The tranquil view from the corner window allows nature to do its wonders in full swing while the planter on the side table simply enhances it.
The full-length mirrored sliding wardrobe is the icing on the cake to this brilliantly well-lit room reflecting all that beautiful light and bringing in environment.
Last but not the least, the framed modern art piece brings the room together and complements the entire look.